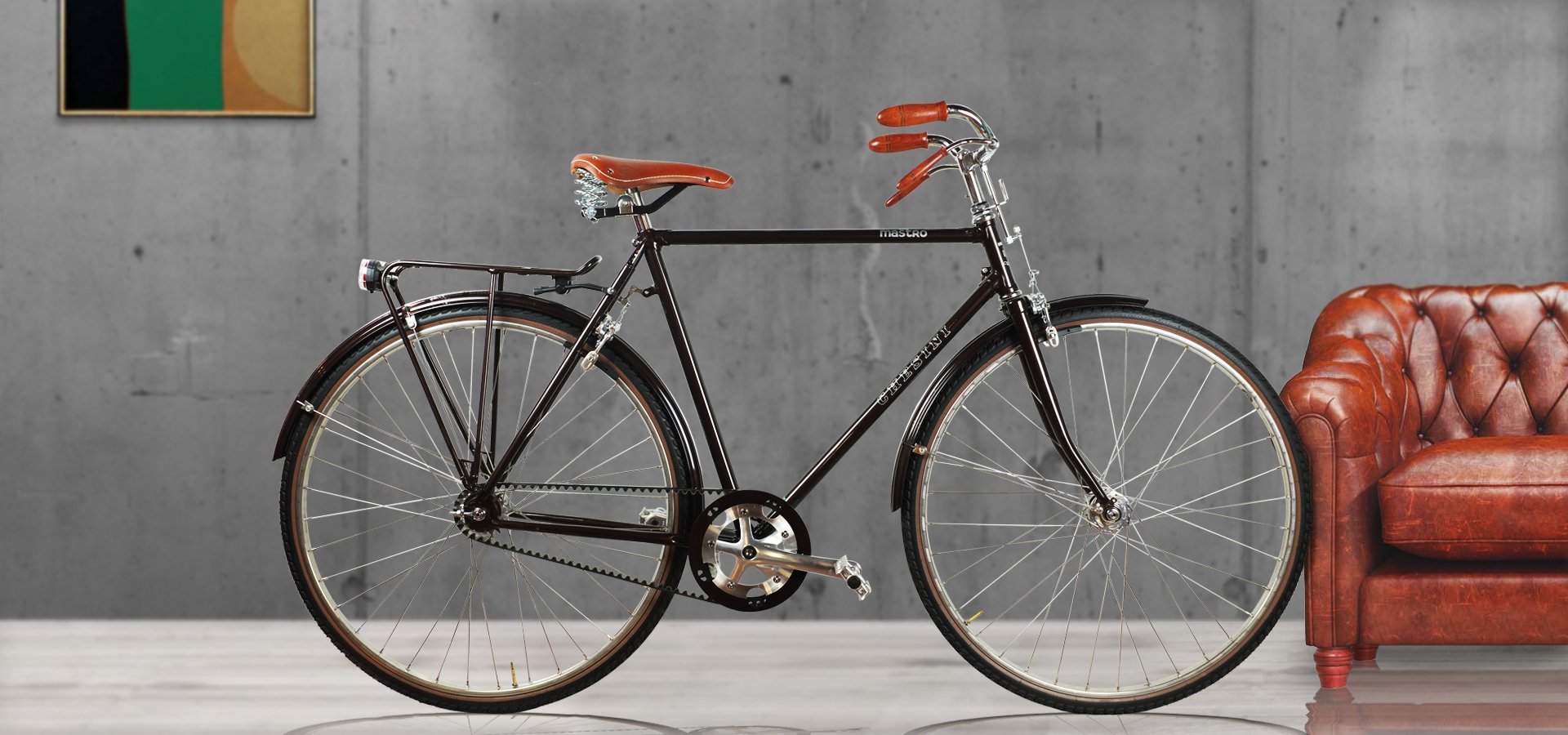 Revisiting of the classic rod brakes bike. Since always one of the favourite among classic bikes, elegant and precious in its steel lever sytem to control the braking system. Yet with an inborn problem: the poor efficiency of this braking system. We wanted to overcome the problem and yet keeping the specific leverage-controls, that mainly mark this classic bike. Braking is now more proficient thanks to te Diacompe center pull caliper brakes and brakes oversize pads.The result is a superior braking also as consequence of the stainless steel wheel rims with knurling braking track. But we wanted to make it even more confortable by assembling a Continental belt system thus obtaining an extremely smooth "velvety" traction. With the other advantage of avoiding all the maintenance necessary for the normal steel chain. A dedicated brushed and painted alluminium chainguard underlines the modernity of the bike.
Montegrappa saddle, in real leather, handmade in Italy. Fine wood grips both for handlebar and brake levers.
Dedicated dark brown metallic paint.
Sturmey Archer 3 speeds hub gear optional. Dedicated rear rack and rear lights optional.
This bike is built only on order, consequently the delivery time is about 4/6 weeks.
From Euro 1.140,00 (+ 22% VAT if/where applicable)
go to the shop
Italian handcrafted steel frame, Hi-Ten tubes with lugs and braze welding
Montegrappa saddle, real leather, handmade in Italy.
Brused alluminium or chromed steel seat post.
Chromed steel head set 1".
Chromed steel handlebar and "rod" brake levers.
Front and rear brakes Diacompe center pull caliper and oversize pads.
Steel fork with braze welding crown duly engraved Chesini in silver color.
Fenders in the same color of the frame with chromed ridge.
Alluminium chainguard, brushed and painted same color of the frame.
Continental belt system, 43t/20t.
Stanless rims double walled, 32 holes,with knurling braking track.
2mm stainless steel spokes.
Continental tyres double color, blak and para.
Rear carrier, chromed steel and painted same color of the frame (optional).
Double rear leds light and front Topolight/Spanninga led light.
Chesini 1925 alluminium hubs, CNC Machined, sealed bearing.
Sturmey Archer rear hub 3 speeds gear (optional).
Cartridge bottom bracket BSA.
Lasco alluminium CNC crankset, crank painted in the same color of the frame.
(CHESINI reserves the right to substitute components not available with others of the same or greater features, without any change in price).
Ask for information